Hyperhidrosis (excessive sweating) and Botox® treatment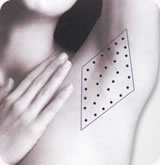 A recent survey on the prevalence of hyperhidrosis (excessive sweating in palms and/or armpits and/or soles) and its impact in the quality of life, showed that this condition causes annoyances and interferes in daily life activities.
According to the patients, they are affected in a:
• 68% when they met new people.
• 58% admit impairments at their workplace.
• 55% in their relationships with other people.
• 39% low efficiency in work.
On the other hand:
• 50% of patients must change clothes 2 or more times a day.
• 20% must take 2 or more baths a day.
• 72% feel low self-confidence and 51% had to modify their daily or recreational activities based on hyperhidrosis.
A surgical treatment for this pathology exists, which provides a prolonged relief, but it is associated to the anesthetic surgical risk and/or the common risks of all operations; plus a "compensatory effect" in 54 to 90% of cases.
The local application of Botox®, leads to a reduction of sweat.
The duration of the therapeutic effect has varied from 4 to 10 months, with an average of 6 months, depending on dose administered, the application technique used and each patient.
The application of Botox® in the treatment of hyperhidrosis is considered a fast, safe and effective procedure.
92% of the patients treated with Botox® affirmed to be satisfied with the results, 4 weeks after the application.
The average of sweat production 6 months after the application showed a reduction in a 50%.