Calf Implants Surgery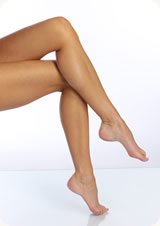 In cases where there is a disbalance on the inferior limbs due to atrophy or hypertrophy on the calf, due to patient's physique, disease or injuries we can improve the leg's volume and shape through soft silicone calf implants which simulate the development of the gastrocnemius muscle (calf muscle).
The surgery can be unilateral or bilateral and has benefits for both men and women.
Of course, all the pre-surgery tests have to be performed.
The procedure is made through a small incision behind the knee, where a pocket is created in which the previously selected silicone implant will be inserted.
Different kinds of prosthesis exist. On the appointments prior to the surgery we determine the best option.
After the surgery wound heals, the use of an elastic bandage is needed for 12 to 15 days. After that it is ideal to use compression stockings.
The procedure is outpatient. It can be performed with epidural anesthesia. Generally, it does not take longer than 90 minutes.
There might be complications like in any other surgeries, e.g: bleeding, infection or seroma, but they are quite infrequent.