Mastopexy (Breast Lift Surgery)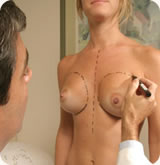 Maxtopexy is a surgical procedure that raises, heightens and gives a better shape to fallen breasts.
In many cases we combine a mastopexy with breast implants placement, to bring back the fullness lost after breast-feeding or a significant weight loss.
A previous evaluation is indispensable to decide the procedure strategy. We make incisions to lift the breast and to simultaneously reduce and reposition the areola-niple set.
Depending on the degree of breast sagging, the resulting scar may be:
Periareolar. (Around the areola)
Periareolar and vertical. (Around the areola and vertically down from the areola to the breast crease)
Periareolar, vertical and horizontal (an inverted "T"). (Around the areola, vertically down from the breast crease and horizontally along the breast crease)
We always try to achieve the best aesthetic result, with the minimum scars possible.
Example of mastopexy with an "inverted T" scar:
Paciente con laxitud mamaria.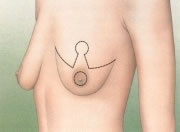 Incision to remove excess skin and
reposition the areola-niple set.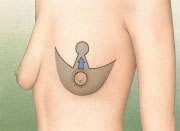 Removal of excess skin.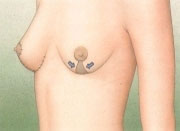 Elevation of the areola and niple.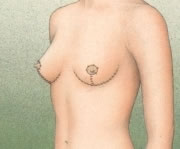 Closing sutures, restoring the breast's
contour.
All patients must undergo presurgical exams and the specific risk factors in each case are analyzed. Smoking always represents an additional risk factor, since it interferes with the normal healing of wounds.
The anesthesia to be used is a decision we make together with the patient. Although we can provide general anesthesia with an in-patient stay for 24 hours, we usually use local anesthesia, plus sedation provided by the anesthesiologist; and after a few hours of post-operative recovery the patient can go home (ambulatory, same-day surgery).
The surgery takes from 2 to 3 hours. The use of a bandage for 3 or 4 days after the intervention is common, that we soon replace with a support bra for a few weeks.
The pain or discomfort in the first 24 to 48 hours of the post-operative is handled with analgesics. Later, the evolution is very well tolerated. Patients retake their normal routine without making efforts, after one week. More time should be waited to retake physical activities, though.
The possibility of complications is the common to any other surgical procedure: hematoma (bleeding, bruising), seroma (swelling), exaggerated or hypo/hyperpigmented scars, infection, etc. In some cases, alterations in the sensitivity of the areola-niple set can occur, that habitually improve with time.
If silicone implants are placed simultaneously with the mammary pexy, the correspondent complications of a breast augmentation procedure can happen, too.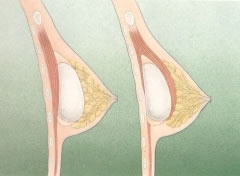 Breast implants can be placed simultaneously.
It is most advisable that the surgery is performed by a specialist in aesthetic plastic surgery. It is, with no doubt, the safest option to achieve a good result and to face any complications, in case they might occur.